Abbotsford House Birthday GALA, 150 Years Old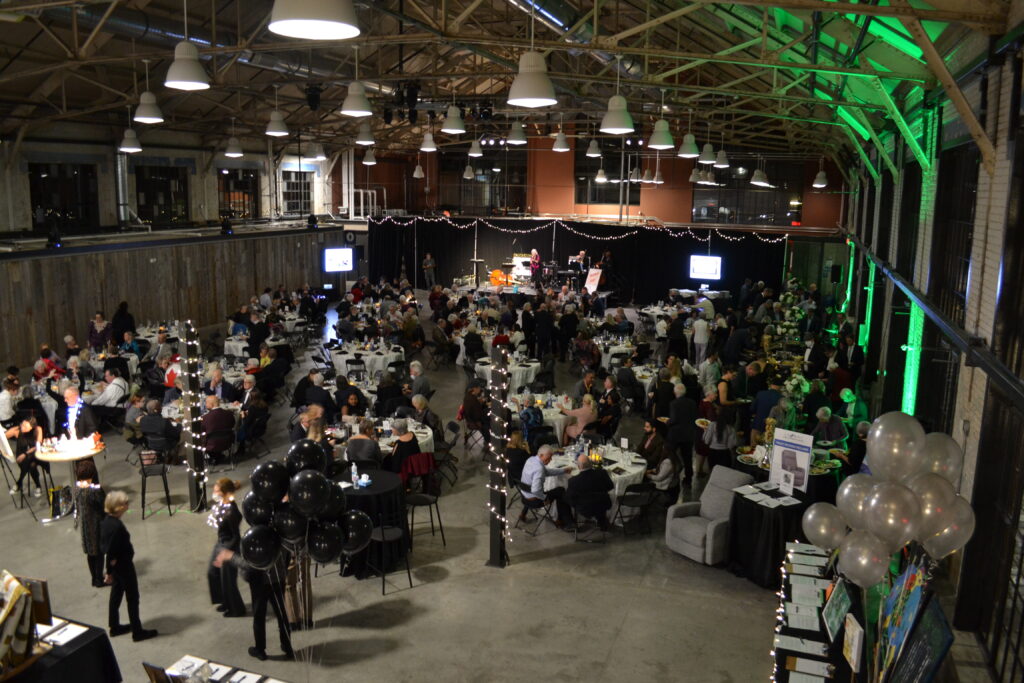 That was a 'Night to Remember'
By: Karen Anne Blakely
The Abbotsford House Gala certainly was "A Night to Remember"! On October 19th 2022 on a rainy evening, 225 supporters gathered at the Horticultural Centre to honour and celebrate the 150th anniversary of Abbotsford House. The striking gothic revival home built for Alexandra and Dorinda Mutchmor and their family in 1872 still displays its remarkable gingerbread gables and solid grey stones, a gem of a historic building on Bank Street.
Attendees of the gala enjoyed gourmet tapas by Dave Smith Catering; live music by the Glebops and then Peter Liu and the Pollcats; Fred Astaire Dance Studio dance demonstrations; and a watercolour artist and student Meredith Lyman skillfully painted an breathtaking image of Abbotsford House for the auction. For theatrical amusement, Pat Goyeche and Ross Imrie dressed in period costumes to portray the characters of Mr. and Mrs. Mutchmor. Local businesses and artists donated numerous gift certificates and art for the silent auction.
All proceeds raised support Abbotsford House for programs and services to seniors and adults with disabilities.
While the final revenue results are still being tallied, we are pleased to report sponsorships totaled $32,000. Led by platinum level sponsorships: Judy Faulkner Real Estate, offering boutique and personalized realty services; and Amica the Glebe, a state of the art retirement home that opened its doors to residents in July 2022. Gold level sponsorship companies included Minto Communities; Whole Health Compounding Pharmacy Glebe; and the Jack Uppal Real Estate Team. Rounding out this corporate support were silver sponsors: Hulse, Playfair & McGarry; McKeen Metro Glebe; and Carmichael Engineering. Bronze sponsors were Randy Douglas Echelon Wealth Partners; Stinson & Sons; BMO; and Capcorp.
Among the many highlights during the evening was the announcement by MC Joseph Cull that an anonymous Abbotsford House member had agreed to match all donations secured that night to a maximum of $5,000. The end result? One amazing gift of $5,000 from the Jack Uppal Real Estate Team, a second generous anonymous donor for $5000, and many others who gave for a total over $15,900.
The gala was a grand and hugely successful evening in support a worthy cause, Abbotsford House!
FINE FINDS Fundraiser
This grand affair will be held on the ground floor of Abbotsford House on Saturday, November 12th from 2:00 – 5:00 pm. We will be featuring Art, Jewelry and Elegant/One of a Kind Treasures that are 'new' to Abbotsford. Every item is individually priced and can be purchased by a ticket holder on a first come first serve basis.
Enjoy a relaxing afternoon with a limited number of other attendees over a glass of wine and canapés. Your $20 ticket can be purchased by calling Abbotsford Monday-Friday 8:30 am – 4:30 pm at 613-230-5730.
The items on offer have never before been displayed at any of our other sales; they are unique and 'new' to you.
Find your FINE FINDS and support your local seniors centre.
Abbotsford Holiday Craft Fair
Saturday, November 26
10:00 am – 2:00 pm
Abbotsford House 950 Bank Street:
-Home made Crafts, Ornaments, Baby Clothes, Knit Wear, and other clever and creative gift ideas.
-Hand made Teddy Bears & other delightful comfort creatures.
-Home baked goodies including frozen apple pies to go.
-Tea Room to restore, chat and enjoy the comfort of food and friends.
Abbotsford is your community support centre for Adults 55+. We are the community programs of The Glebe Centre Inc., a charitable, not-for-profit, organization which includes a 254 bed long-term care home. Find out more about our services by dropping by 950 Bank Street (the old stone house) Mon- Fri 8:30 am-4:30 pm, telephoning 613-230-5730 or by checking out all of The Glebe Centre facilities and community programs on our website www.glebecentre.ca