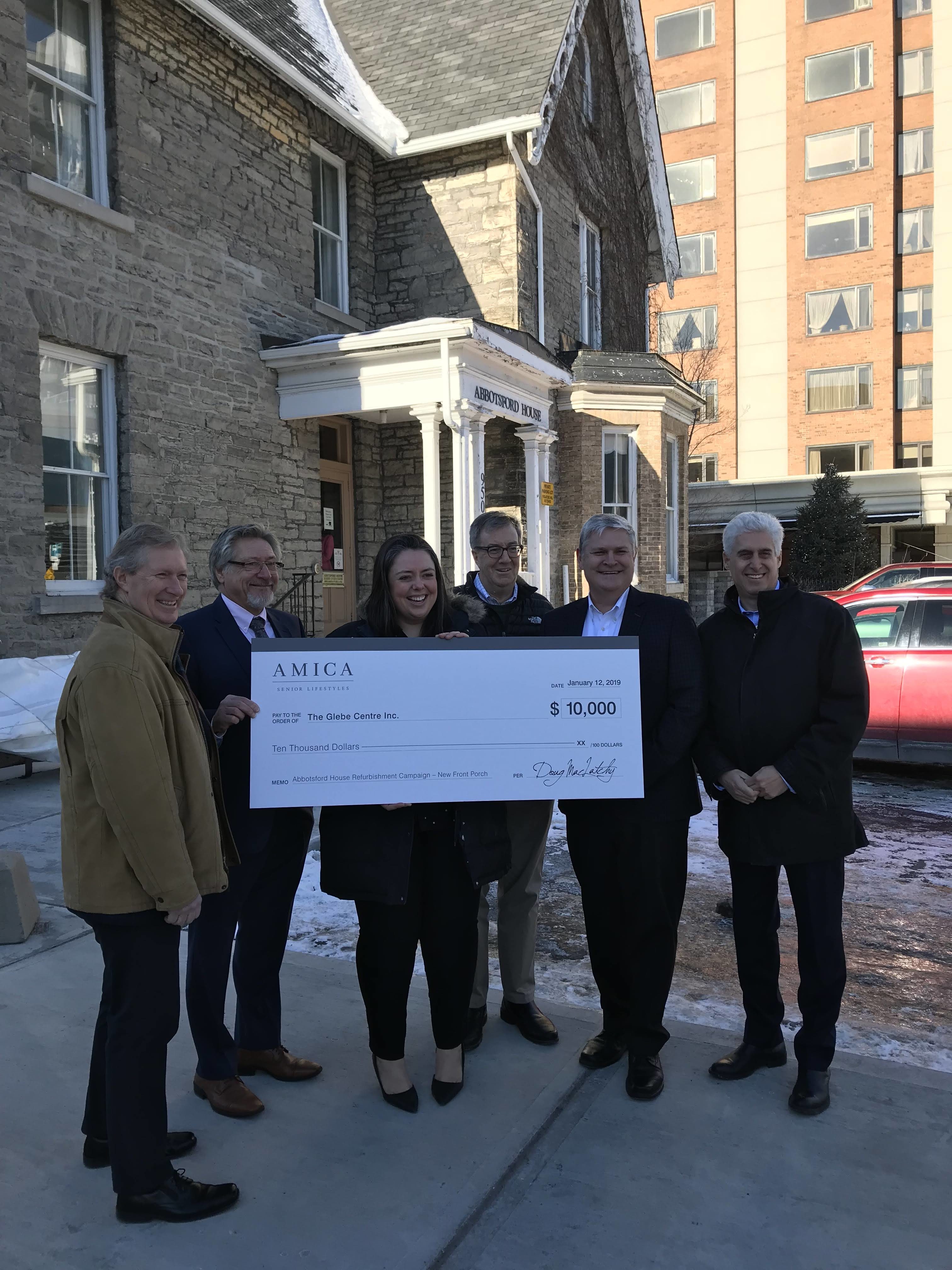 Amica The Glebe to provide $10,000 donation toward the Abbotsford House Restoration Fund

Despite freezing temperatures 45 guests made their way to Abbotsford House at The Glebe Centre on Saturday, January 12th for a brunch hosted by our new neighbours, Amica The Glebe. Complete with a champagne toast by the Amica Leadership and Mayor Watson guests raised their glass to a happy and prosperous new year.
To kick off the event, Amica Senior Lifestyles and Succession Development donated $10,000 to the Abbotsford House Restoration Fund. This significant investment by Amica will support the restoration of the historic Abbotsford House, having a positive impact on more than 1,000 local senior members and clients. With a growing senior population, these types of community services are increasingly important.
"For 133 years, Abbotsford House has provided community connections and a home away from home for seniors in the Glebe," says Amica Chief Executive Officer Doug MacLatchy. "Amica The Glebe is proud to support seniors and to help restore this important pillar of the community."
Succession Development, a leading senior housing development company in Ontario, is working closely with Amica Senior Lifestyles to develop Amica The Glebe, which is set to open in 2021.
"We are excited to be developing a unique full continuum senior lifestyles residence in the Glebe and to be part of the Glebe community," says Jeffrey Baum, CEO of Succession Development.
"Abbotsford House has a storied history of supporting seniors in the Glebe," says The Glebe Centre Executive Director Lawrence Grant. "We've established a restoration fund to help us restore the building. This significant donation from Amica The Glebe will enable us to restore the front porch of the building – one of our top priorities."
For more information about the Abbotsford House Restoration Fund please contact Courtney Rock (crock@glebecentre.ca, 613-238-2727 x 316).
About Amica The Glebe
Opening in 2021 in the heart of The Glebe in Ottawa, Ontario, Amica The Glebe is designed to fit its charming, historic surroundings. This senior lifestyles residence will offer a choice of private suites in independent living, assisted living and memory care, along with a host of premium amenities including a concierge, saltwater pool, fitness centre and a wide variety of scheduled social activities. Led by a Red Seal-certified chef, this residence will offer exceptional cuisine including healthy, balanced, dietitian-approved meals and a fully licensed dining room. With all shared and private spaces architecturally designed for comfort and accessibility, Amica The Glebe will provide its residents with everything they need to meet their current and future needs.
About Abbotsford House
Abbotsford House is a community support centre for adults 55+. With a 133-year history of serving local seniors, Abbotsford provides the community programs of The Glebe Centre Inc., a charitable, not-for-profit organization. Boasting 180 volunteers, Abbotsford House offers its 1180 members and clients thousands of connections through its community support services, drives for seniors and adults with disabilities, respite care to caregivers through its Day Away Program, classes, lunches, bus trips and more. To find out more about Abbotsford House services, visit 950 Bank Street (the old stone house) Monday to Friday, 9 – 4, phone 613-230-5730 or visit www.glebecentre.ca.