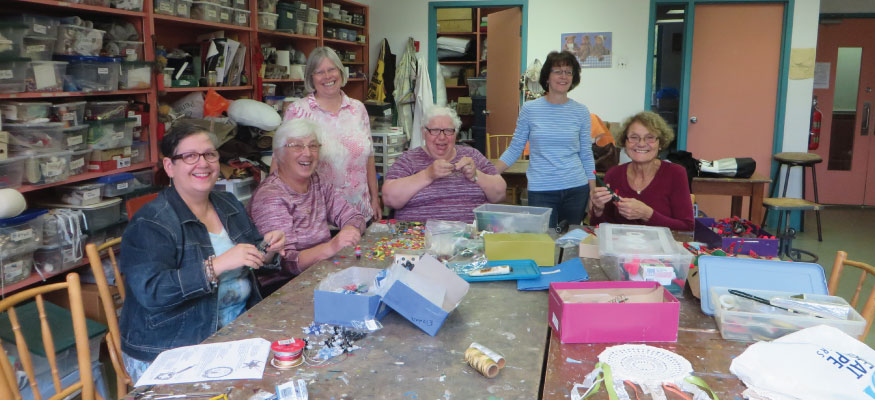 CRAFT CREW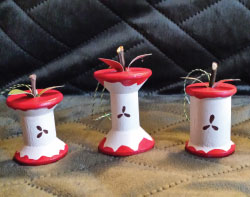 Every Thursday afternoon at Abbotsford at the Glebe Centre a small, but dedicated group of crafters repurpose bells, burnt out light bulbs, empty thread spools and pipe cleaners into some unique Christmas ornaments and keepsakes to be sold at the annual bazaar.
Now they're looking for more crafters to join them.
The group meets once a week, on Thursday afternoons between 1 and 3 pm throughout the year — except for summer. Other craft contributors work away at home, creating knitted and sewn treasures including hats, scarves, mitts and handbags to contribute to the bazaar's craft table.
The annual, not-to-be-missed bazaar at Abbotsford House across from Lansdowne Park is on Saturday Nov. 25 from 10 am to 2:30 pm. The event helps raise money for a variety of seniors programs offered through the centre all year.
"Last year we did a whole bunch of sock owls, puzzle-piece tree ornaments and light bulb penguins and snowmen," said Ruth Hetherington who's been with the craft group for several years. "We're a small, but mighty group."
Hetherington said she's the group's "ideas person", using the internet to find a variety of crafts that will lead to prototypes that are both cheap and cheerful.
"I come up with ideas that will appeal to people, but not cost a fortune. Things that people in the group can make," said Hetherington who first got involved after finding the group on the Volunteer Ottawa website.
She said the group is looking for new recruits, especially those with crafty skills and a good instincts when it comes to organizing the inventory, and doing pricing.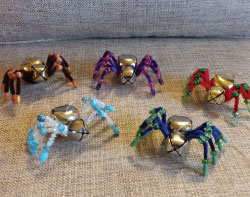 The ability to sew or knit would be handy too.
"I'm not a knitter," said Hetherington. "Give me a glue gun, a pair of scissors and some paint, I'm great,"
Another long time member of the group, Lindsay Thomson-Marmen, first got involved in stained glass classes at Abbotsford, but says she also loves her time spent in the craft room.
"I enjoy the people at Abbotsford everyone is just wonderful," said Thomson-Marmen. "We used to get a lot of peach pits and make little loons, that was very time intensive."
One of this year's projects is making apple cores out of old thread spools and the ever-popular raffle baskets, which will include a "spa basket" this year, will also be put together by the craft group.
"We're sort of rushed towards the finish line, said Thomson-Marmen. "Bazaar day is almost here."
If you would like to join this group on Thursday afternoon, volunteering your time and talent please get in touch with the Glebe Centre volunteer coordinator at 613-238-2727 (ext. 353).
Abbotsford is your community support centre for Adults 55+. We are the community programs of The Glebe Centre Inc., a charitable, not-for-profit, organization which includes a 254 bed long term care home. Find out more about our services by dropping by 950 Bank Street (the old stone house) Mon- Fri 9-4 pm, telephoning 613-230-5730 or by checking out all of The Glebe Centre facilities and community programs on our website www.glebecentre.ca
Article by Julie Ireton