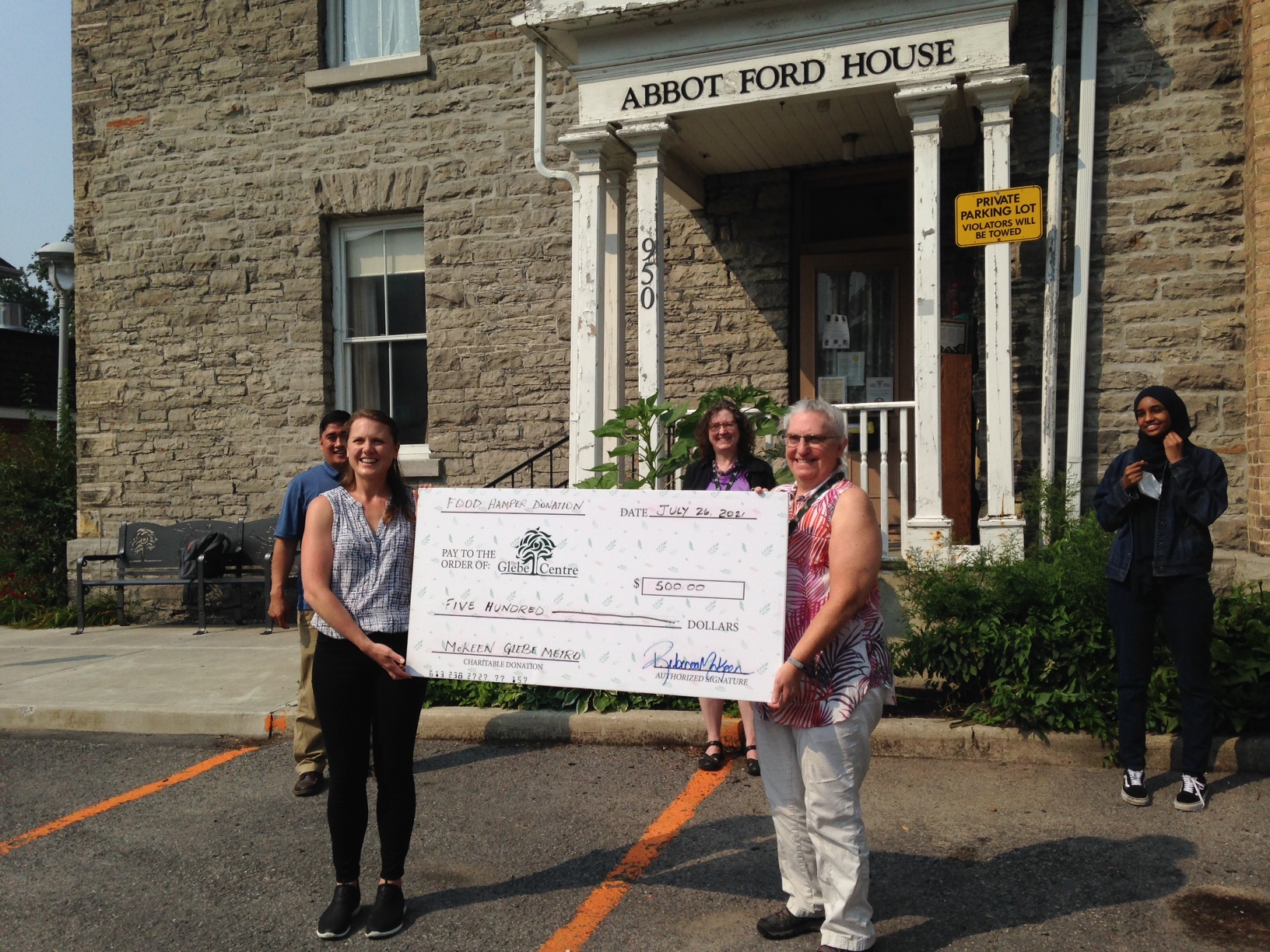 Food Hamper Project
Food Hamper Project
By
Kirsten O'Brien, Program Facilitator
At Abbotsford House, we connected by telephone and email with seniors remaining at home throughout the pandemic. During some wellness checks done by staff and volunteers, food security was mentioned as an ongoing issue for some seniors that we serve. We considered how we could support these seniors in the community during the pandemic.   For many it was the struggle to get to a store, not having a credit card for online shopping, the fear of going into a store, and for others it was having to shift finances to cover increased costs of all things associated with the pandemic.
Director of Community Programs, Karen Anne Blakely, applied for a grant through the Ontario Community Support Association to assist seniors who were struggling with food security. We received funds to be able to provide up to 50 food hampers. Staff reached out to the many seniors with whom we had spoken to in the early days of the pandemic who had identified the need. We made of list of clients, recruited volunteers, developed a delivery route and began to shop! Staff and volunteers took the time to personalize the food boxes, ensuring that what was in each box would meet the needs and preferences of each of the seniors. Deliveries of the food boxes were done by staff.
As our resources dwindled, we were fearful we would not be able to impact as many seniors as we had hoped. Then, Abbotsford House was fortunate to receive a $500.00 donation from the Glebe Metro! Owner Rebecca McKeen and her team never hesitated when they were approached to assist with this project. The team at Glebe Metro provided us with the resources to not only meet our target, but exceed our target. So far Abbotsford House has delivered 48 food boxes and the target is now increased to a total of 60 food boxes.
In addition to the donation, Glebe Metro provided Abbotsford House with a 5% discount on the grocery bills. A huge shout out to Rebecca McKeen and her team at Glebe Metro for helping with this Food Hamper project.
Clients stated their appreciation for the food hampers in their feedback to staff at Abbotsford House. We received comments such as: "Only a few people are full of compassion like you"; "You are truly an angel"; "… (the food box) was so generous, now I don't have to arrange for someone to go get my groceries for at least a week"; and "Thank you for the food hampers. Bless you all for being part of this".
Rebecca McKeen presents check for $500.00 for Food Box Project. Pictured are: (front row) Rebecca McKeen and Kirsten O'Brien, (back row) Nick Bermudez, Jane Stallabrass, Student Rahima Abdillahi. Missing from photo: volunteer Clara Luck. Photo credit: Pat Goyeche.
Abbotsford is your community support centre for Adults 55+.  We are the community programs of The Glebe Centre Inc., a charitable, not-for-profit, organization which includes a 254 bed long term care home.  Find out more about our services by dropping by 950 Bank Street (the old stone house) Mon- Fri 9-4 pm, telephoning 613-230-5730 or by checking out all of The Glebe Centre facilities and community programs on our website www.glebecentre.ca