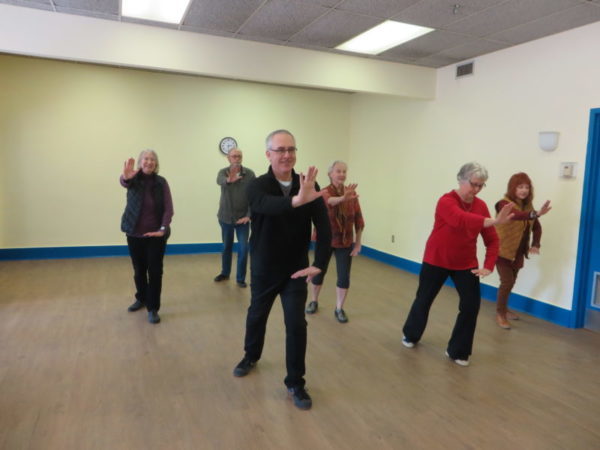 Keep Fit, Keep Engaged and Come on In!
By: Pat Goyeche
Spring is coming, though winter did manage to sneak in a few extra sprays of snow.  With spring comes a feeling of renewal, seeding fresh starts and more active living.  It is time to put away your winter boots and break out the sneakers.
The Glebe Centre Community Programs at Abbotsford offer a wide range of programming for Adults 55+.  Our programs work to challenge and engage the whole person.  We offer intellectual, social, physical and artistic programs and classes for everyone at all levels of ability.
Enjoy our weekly Learn & Explore 'Speaker's Series' on Wednesday afternoons or our monthly Topical Talks as listed in our guide which you can pick up at Abbotsford or view online:  www.glebecentre.ca  under Community Programs and Current Guide. (pages 14 & 15)
On Wednesday, April 18, Mark Mueller, an electrician, economist and author of Hugo Frank in the Maelstrom of German History will be presenting his book.  We will learn how an ordinary family manages through turbulent times of German history, starting with Bismarck and ending with the Berlin Wall in 1961.  This is one of many weekly lectures that are open to the general public.  It is a great introduction to what Abbotsford has to offer. Please telephone Reception to reserve a seat at 613-230-5730.
Spring also brings out the cleaner in many of us; please think of Abbotsford when cleaning your basements and closets.  We gladly accept gently used women's clothing for our Boutique as well as Elegant Treasures, Art, Flea Market items, Books, and Jewellery.  All of these donations are sorted, priced and resold with the aid of our many devoted volunteers.  The sale of these donations helps to maintain and enhance the programming offered through Abbotsford.
Art classes are blossoming at Abbotsford this spring.  We have a new roster this term including a beginner's watercolour class on Friday morning and on Wednesday morning we have Drawing & Printing Techniques – More than Fifty Shades of Grey!  This is a beginner's level course, developing basic drawing skills, sketching and making unique mono-prints.  There will be simple, fun exercises that will give you confidence in your own ability to create.  We also have Calligraphy, Embroidery on Paper, Working with Wood Projects, Pottery, Stained Glass and an Art course where you work on your own painting/drawing with a knowledgeable artist/facilitator on hand with helpful hints.  Don't miss out on your artistic growth this spring!
We also have a new course this spring that combines physical and brain exercises called
Brain Shaker: a dynamic physical and mental challenge: Let's use it, not lose it, this new physical/mental programming that stimulates through moderate physical exercise combined with fun trivia.  It combines instruction with N.U.T.S (Neuron Upgrade Training Stations) that are ready to challenge and boost your knowledge.  Welcome 21st Century instruction and technology for an engaging activity with a great fun factor.
Many of our popular classes and instructors are back this spring with appropriate levels for all students in Tai Chi, Aerobics, Dancing to World Music, Zumba, Yoga, Muscle Toning, Cardio/Core workouts and Balance and Strength classes.  Keep fit and find what works for you.  You are welcome to try a class prior to enrolling (if it isn't already filled to the maximum amount of participants).  We have drop in rates, please check in with Reception prior to trying a class.
Clubs remain popular as members "own" their community centre practicing Tai Chi sets, playing Bridge, Pool and Ping Pong multiple times during the week.  Non-members are welcome to check out a club prior to taking out a membership.  Members enjoy the use of the facility to hone in on skills they have learned through courses at Abbotsford.  Some clubs such as Mahjong, Sing 'N Jam, Opera, Book and Movie clubs keep members in touch with like-minded people who appreciate getting together on a regular basis.
These spring seeds: lectures, fundraising sales, classes and clubs spread and build strong roots at Abbotsford throughout the year.  Keep fit and engaged, come visit Abbotsford.
Abbotsford is your community support centre for Adults 55+.  We are the community programs of The Glebe Centre Inc., a charitable, not-for-profit, organization which includes a 254-bed long-term care home.  Find out more about our services by dropping by 950 Bank Street (the old stone house) Mon- Fri 9-4 pm, telephoning 613-230-5730 or by checking out all of The Glebe Centre facilities and community programs on our website www.glebecentre.ca