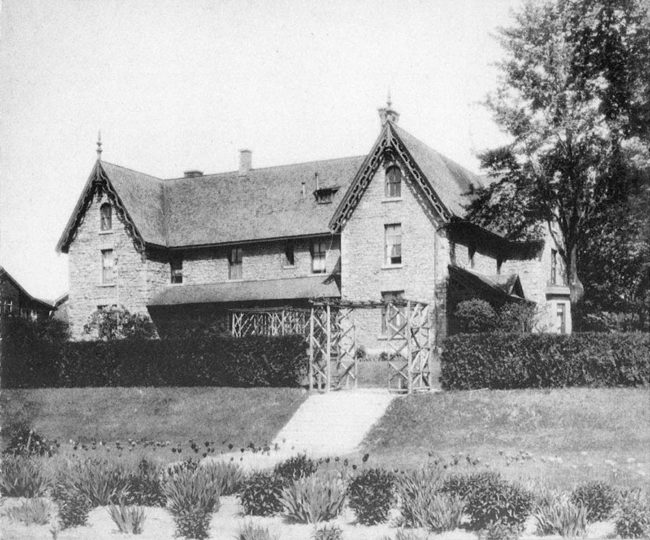 Search on for Photos of Historic Abbotsford House
By Julie Ireton
Geoffrey Rider is hoping that tucked away in some attic or buried deep in a basement is a collection of long, forgotten photos that might include historic shots of one of the Glebe's most grand homes.
Rider, a volunteer and member of Abbotsford at the Glebe Centre is trying to piece together a more accurate history and more complete photo collection of Abbotsford House, built in the late 1800s, right across from Lansdowne Park.
"It's not too late," said Rider. "There have got to be images around of the house. 1889, was actually when Kodak introduced the box camera and people were taking amateur pictures. There are probably some around in boxes and basements."
At 'Doors Open' every spring, buildings across the region welcome guests to admire the architecture and heritage.  Abbotsford House has opened its doors over the years and every time, staff and volunteers seek out more information about the old house to add to the lore.
That's where Rider, the former director of collections and research at the Canadian Science and Tech Museum, has helped out.
"Boxes needed to be sorted and I found some references to records that had been sent to the Ottawa archives," said Rider. "I started going through the minutes from 1887 when they opened the Protestant House of Refuge."
Rider was already aware of the home's rich history, starting out from its construction by local pioneer and businessman, Alexander Mutchmor.
From 1889 to 1974 the house was a shelter for elderly men.  Then local churches came together in the early 70's to build a retirement home for both men and women beside the house.
This became the Glebe Centre, and Abbotsford became what it remains today, a Senior's Active Living Centre (Programs and Services for Adults 55 +).  The house was designated an official heritage sight in 1984.
Through his research, Rider discovered the house had barns, farm animals, fields and gardens.
There must have been hens too considering he's found a "poultry and egg book" from the 1920s and 30s that shows the residents and staff at the house were selling chickens and eggs.
"People also rented the lawn to hold events including costume balls and tea parties on the premises," said Rider. "Notable people would be in attendance, probably protestants, and members of the home's board of directors."
Local Protestant churches and a woman's auxiliary helped fundraise and refer residents to the home so Rider thinks some Glebe and Old Ottawa South church archives may hold information or photographs.
"There's a pretty wide net of people who could search for stuff," said Rider who also hopes to clarify dates and set a more accurate historical record. "It should have been done 25 or 50 years ago, but it's not too late."
If you have any stories or photographs about/of Abbotsford House please contact Pat Goyeche, Coordinator of Community Programs at: 613-230-5730 or pgoyeche@glebecentre.ca.
Abbotsford is your community support centre for Adults 55+.  We are the community programs of The Glebe Centre Inc., a charitable, not-for-profit, organization which includes a 254 bed long-term care home.  Find out more about our services by dropping by 950 Bank Street (the old stone house) Mon- Fri 9-4 pm, telephoning 613-230-5730 or by checking out all of The Glebe Centre facilities and community programs on our website www.glebecentre.ca