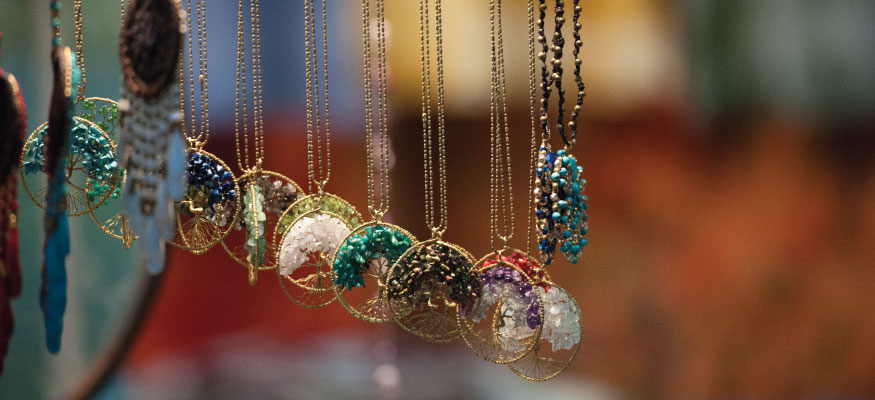 Abbotsford Bazaar Saturday November 25, 10 am – 2:30 pm
Whether it's freshwater pearls, Swarovski crystal earrings or vintage Jackie-O style gems, there will be something for everyone at the Abbotsford Bazaar's jewellery table on Saturday Nov. 25.
The jewelry team will make sure of that.
Since last January, volunteers have been taking in donations, cleaning and sorting the treasures for the annual sale.
The bazaar is a not-to-be-missed event at Abbotsford House at the Glebe Centre across from Lansdowne Park.
The event takes over the entire senior centre, attracting visitors from across the community who come seeking flea market finds, home baking, handmade teddy bears, books, vintage treasures and of course, the popular jewelry table.
"It's so exciting when the bazar comes along. It's a bit of a zoo actually.
People line up in hoards, said Penny Clelland, Abbotsford member and jewelry sorter. "There are crowds around the table, three to four people deep. We have a motto: 'I have enough jewelry said nobody – ever'."
Clelland and co-volunteer Susan Chibuk research the more precious jewelry online, to figure out a good price. They also seek appraisals or minor repairs from area jewelers.
Long-time Abbotsford member, Doris Smith who headed this group for many years still cleans up the watches and puts in new batteries.
"Our goal is to raise money for this charitable organization. It's all for a good cause for Abbotsford," said Chibuk. "There's always something going on there. It's an amazing facility."
Both Clelland and Chibuk take part in other activities at Abbotsford and volunteer their time to more than just the bazaar.
Clelland helps seniors who need a drive to medical and hospital appointments – just one of the services Abbotsford helps arrange.
"That's actually a wonderful thing to do," said Clelland. "I meet interesting people and we have great conversations. I really enjoy doing that. It's such a good support for the community."
As the bazaar draws closer, Clelland and Chibuk said they'll lose the use of their own dining room tables that get cluttered with the jewelry as they get ready to display and price it.
"There are all sorts of finds. Even some of the hippy stuff can be very fun," said Chibuk. "And we just love getting together."
You won't want to miss the jewellery, flea market, book, art, elegant treasure, linen, teddy bear and craft corners.  There is something for everyone at this bazaar: "The Best Bazaar in the City"!
Abbotsford is your community support centre for Adults 55+.  We are the community programs of The Glebe Centre Inc., a charitable, not-for-profit, organization which includes a 254 bed long term care home.  Find out more about our services by dropping by 950 Bank Street (the old stone house) Mon- Fri 9-4 pm, telephoning 613-230-5730 or by checking out all of The Glebe Centre facilities and community programs on our website www.glebecentre.ca
By Julie Ireton