New Leadership at the Glebe Centre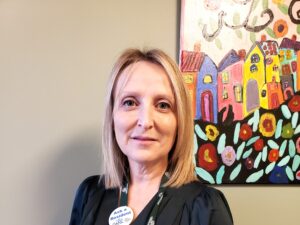 Three and a half years after the global pandemic forced communities to pay attention to the long-term care sector, the Glebe Centre has a new leader with new priorities.
"I'm coming in with a fresh set of eyes," said Emma Tibbo. "For me as a new executive director, I want to make the Glebe Centre the home of choice and the employer of choice."
The not-for-profit organization runs the 254 bed long-term care home across from Lansdowne Park, along with the adjacent seniors' centre, Abbotsford House. Abbotsford provides services and programs to engage the 55 plus community and help seniors stay in their homes longer.
Tibbo takes over from recently retired executive director Lawrence Grant, who was in charge at the centre for the past 15 years.
"The last executive director went through the pandemic, but the staff and organization is ready for revitalization and we need to look at the models of care for the future."
Tibbo started her new role in September.
Originally from Scotland, Tibbo's job experience includes forensic work as a crime scene analyst in the UK and New York City. Since coming to Ottawa several years ago, Tibbo has taken on roles in strategy and performance at two area hospitals.
While her role at the Glebe Centre is her first in the long-term care sector, Tibbo says she's eager to dive into the new challenge of managing elderly care.
Her priorities include creating a new strategic plan for the centre, which she says hasn't been updated since 2019.
"We want to keep staff engagement and morale and make sure the Glebe Centre can continue to provide great care with all the rapid changes in the sector," said Tibbo.
Volunteers are key members of the team, yet the base of volunteers dwindled after the necessary precautions and restrictions started in 2020, she said.
"We're such an amazing community. We want to encourage people to come in and volunteer, take part in programs. We also want to make sure we're linked to the community which was a challenge during the pandemic, but we now need to ramp that up again."
At an open house on her first day on the job, Tibbo met with front-line workers, residents, families and board members. She says her plan is to go on regular "walkabouts" to engage with staff and the people they care for.
"I always say, 'once an adult, twice a child'. How do elderly residents keep their identity? It's a challenge and something we need to address, because the number of people requiring long-term care is on the increase," said Tibbo.
There is one "huge concern" as Tibbo settles into work in the heart of the Glebe. She foresees challenges with plans for Lansdowne 2.0, including future road work, parking issues, traffic tie ups and a lack of sufficient public transit — all of which will have an impact on residents' families, Abbotsford members, volunteers and staff.
"It could impact the ability to carry out programs," she said.
The Mystic Carnivale gala on Oct. 12 was a huge success and raised necessary funds for Abbotsford House and programming. The staff and management at the Glebe Centre thank everyone who contributed from tickets buyers to donors, sponsors and volunteers. It truly was an evening that left everyone spellbound.

Abbotsford is your community support and seniors active living centre for adults 55+. We are the community programs of The Glebe Centre Inc., a charitable, not-for-profit, organization which includes a 254 bed long term care home. Find out more about our services by dropping by 950 Bank Street (the old stone house) Mon- Fri 9-4 pm, telephoning 613-230-5730 or by checking out all of The Glebe Centre facilities and community programs on our website www.glebecentre.ca