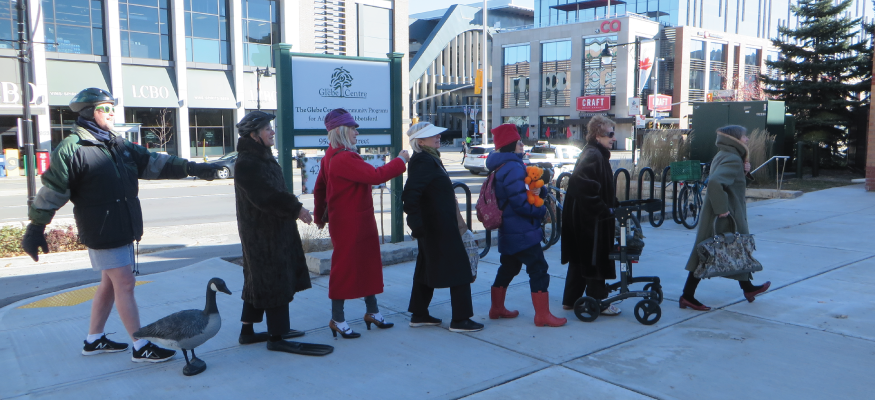 Walk this Way
Ever wondered what went on in that old stone house across from Lansdowne Park? Wonder no more; wander down our new walkway and find the hidden treasure that is Abbotsford.
Many people cut through the Glebe Centre's walkway that connects Monk Street to Bank; but some may not have realized how often they used that shortcut, until it was closed off while being replaced. It took three weeks to complete but now the walkway is smooth and safe and will melt snow and ice on contact; keeping Abbotsford cleaner (less salt) and its' patrons safer.
Next time you "walk this way" give a nod to the Glebe Centre for this much improved walkway. Dismount and walk your bike, smile at a senior and drop in for a tour of Abbotsford.
You'll find out about our winter programming and meet the people that make it work. Our staff, volunteers and members all bring the best of what community is to this centre. Find out how and when to take the stained glass class you always wanted to pursue; or a watercolour, pottery or calligraphy class. If you are 55 plus, it is time to come in from the cold and participate in our varied programming. Membership to the centre and its programs runs from January 1st to December 31, 2018. A perfect time to join in!
We have weekly speaker presentations on Wednesday afternoons, courses on music appreciation, yoga, Tai Chi and various levels and types of fitness classes to help keep you in shape. We have clubs that bring people together to play mahjong, bridge, scrabble and musical instruments.
If you are hungry for a snack and a warm cup of coffee/tea drop into our dining room; our rates are very reasonable and you can sign up for lunch on either Tuesday or Thursday at noon. We also have a new breakfast club on Thursday morning; it is casual and friendly, an enjoyable way to meet new people or to meet up with 'old' friends over a cupper.
Abbotsford's programming is geared to folks 55+; as are the centre's services. You might want to schedule a foot care appointment or a massage with a registered massage therapist. Do you need a drive to a medical appointment or a supportive service like one of our Day Programs? Looking for a housekeeper or handyperson? Abbotsford has many services for older adults.
Thank you for your patience during the reconstruction of the walkway and for continuing to find your way inside to drop off and drop in.
We also would like to thank the community for their patronage of our 42nd annual fundraising bazaar this past fall. So many volunteers gave countless hours of their time during the day and in the weeks and months leading up to the bazaar. Others gave us the "stuff" we were able to sell; the wonderful flea market items, books, jewelry, boutique, art, treasures and baked goods. Some special folks created Teddy Bears, crafts, knitwear and handmade items such as purses and bags. Many came to the sale and purchased our goods and treasures; and then there were those who donated the yummy soup, coffee, lasagna and baked goods to keep the volunteers fueled. Others helped keep the crowds safe and orderly on what was an especially exciting weekend, with Grey Cup festivities spilled across the street from Lansdowne Park.
We would like to wish you all a very Happy New Year and ask you to please 'Walk this Way' via our new walkway this winter.
Abbotsford is your community support centre for Adults 55+. We are the community programs of The Glebe Centre Inc., a charitable, not-for-profit, organization which includes a 254 bed long term care home. Find out more about our services by dropping by 950 Bank Street (the old stone house) Mon- Fri 9-4 pm, telephoning 613-230-5730 or by checking out all of The Glebe Centre facilities and community programs on our website www.glebecentre.ca.
By Pat Goyeche