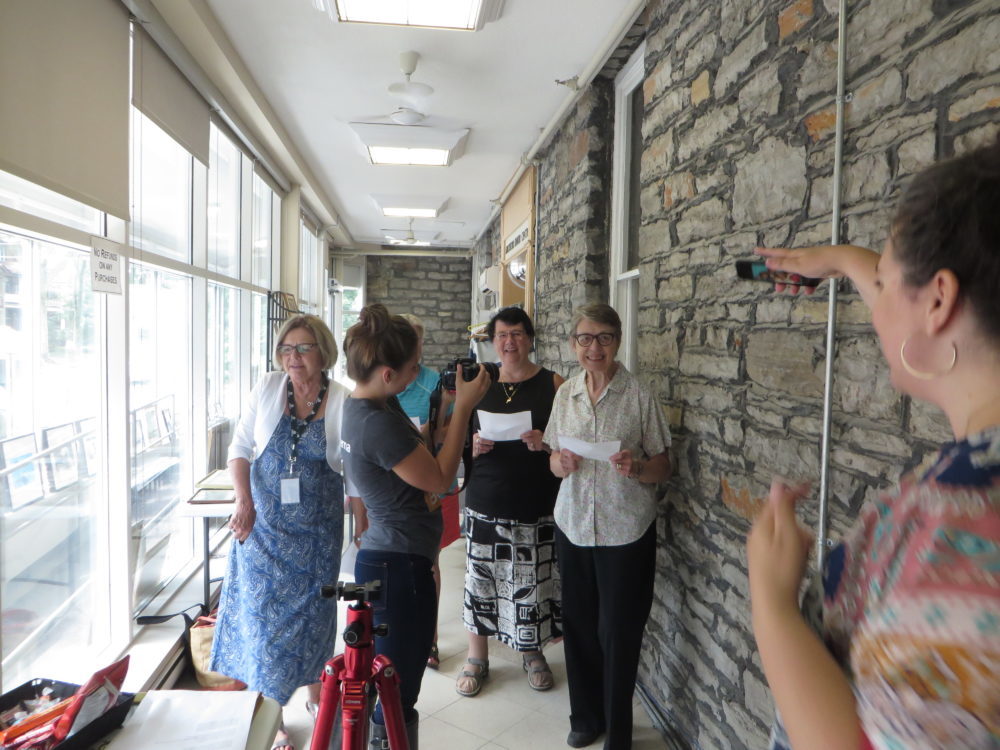 Finding your 'Groove' at Abbotsford
Finding Your 'Groove' at Abbotsford
By: Pat Goyeche
It is time to look ahead to cooler weather and finding your groove at Abbotsford, which houses the Glebe Centre's Community Programs and Services for Adults 55+.
Finding your fitness, artistic, intellectual and social groove are all possible at Abbotsford this fall.
Not only do we strive to help you find your groove through Abbotsford's programs, we now have a fantastic new fall event, which is the epitome of groovy.  Baby-boomers (and other generations of course) can 'bliss out' on Saturday, September 29 at GLEBESTOCK, in the Horticultural Building at Lansdowne.  The evening boasts a live 60's cover band as well as fun retro booths, finger food and a cash bar.  Rock out with friends and neighbours while raising much-needed dollars for both the Glebe Centre's community programs and services and the long term care home.  Tickets are $50 each and can be purchased online or in person at Abbotsford.
Check out our sponsors and learn more about the event on our new Facebook page: @TheGlebeCentreInc.
Courtney Rock, the Glebe Centre's Fund and Development Manager has a number of treats in store, including a special video thank you to the community which will have its premiere at the event.  Many staff, volunteers, members and residents have given considerable time and enthusiasm to the making of this wonderful video. It will only premiere once, and that is at GLEBESTOCK, don't miss out getting your ticket now by clicking through at https://glebecentre.ca/upcoming-events/.
Finding your groove in the kitchen is also front and centre at Abbotsford this fall because our main floor kitchen has been upgraded significantly over the summer.  Look for cooking classes, communal dining and specialty workshops with the addition of a range, dishwasher and microwave (courtesy of the Abbotsford Members Council).
Our traditional fitness classes, favourite instructors and always-popular arts courses are returning to Abbotsford this fall, alongside new programming such as Chair Tai Chi and Finding Meaning in Song.  The fall guide will be available mid-August and will list a full complement of programs for Adults 55+.
Finding your groove has never been easier than it will be this fall, so join in and participate in all that we have on offer. Abbotsford is dedicated to forging new partnerships in our community, implementing new programming through grants and fundraising and continuing to work with our governments and agencies that help keep our 55+ population active and engaged.
We are also particularly excited to share the news that we have a new white high profile van, a Dodge Ram ProMaster fitted with a mechanical lift at the back for wheelchair access.  The Champlain Local Health Integration Network funded this van through the Champlain Community Transportation Collaborative led by Carefor, another community agency. Take a closer look when you see it. The three logos on the van indicate the organizations involved. The van has room to transport 7 passengers and 1 additional person in a non-collapsible wheelchair. The van seats are removable and the position of the seats are changeable to arrange depending on clients' needs.
We are currently using the van to transport clients residing in the neighbourhood for two Adult Day Programs: dementia and frail seniors. When funding is secured for additional days in the dementia Adult Day Program, we will be able to expand use of the van. Meanwhile, you will continue to see our 2010 Lady Mary Ford bus on the road for a while for use by long term care residents as they enjoy outings to local venues, restaurants and for tours around Ottawa.
Abbotsford is your community support centre for Adults 55+.  We are the community programs of The Glebe Centre Inc., a charitable, not-for-profit, organization which includes a 254 bed long term care home.  Find out more about our services by dropping by 950 Bank Street (the old stone house) Mon- Fri 9-4 pm, telephoning 613-230-5730 or by checking out all of The Glebe Centre facilities and community programs on our website www.glebecentre.ca.