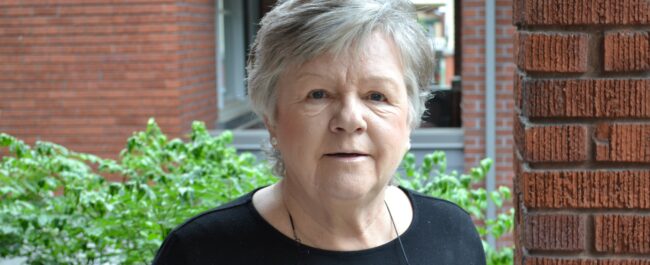 By: Julie Ireton
Some seniors who have made Abbotsford House at the Glebe Centre part of their lives, for years, didn't realize what the senior's centre across from Lansdowne Park really meant to them until the forced COVID lock-downs and isolation began.
Before the pandemic hit in March of 2020, Judith Hoye took three exercise classes a week at Abbotsford at the Glebe Centre across from Lansdowne Park. Then she'd stay after class for social time, coffee, treats and laughs. "All that ended as COVID took over," said Hoye.  But just because she couldn't go to Abbotsford, didn't mean her interaction with other members needed to end.
Hoye was one of the volunteers who started to make regular phone calls to half a dozen other seniors, keeping them up to date on how the centre and its staff might help them out, such as lending out tablets. She encouraged those isolated from friends and family to get involved in some of the "zoom" programming including online art classes. The phone calls and interactions benefited her too.  "Some of those people have become friends and although I have never met them, we will meet when the world rights itself and we can meet face-to-face," said Hoye.
With vaccine mandates now in place, she plans to safely get back to some of the centre's activities being offered.
"Abbotsford is a place where people meet and laugh," said Hoye. "It provides a place where interesting people gather, do something useful, and keep our minds and our bodies stretched and resilient."
The fitness classes are one of the reasons Merilyn Neilson is glad to be back at Abbotsford after several months away.   As a member of the functional fitness class, she says it helps with strength, mobility, balance and muscle tone. "I love it," said Neilson who is also looking forward to the further easing of restrictions, possibly in the new year, so the Abbotsford bridge group can also get back to playing cards. "I think it's an excellent facility. There should be more 'Abbotsfords'.  I think it saves a lot of senior people in many ways with the friendships and the exercise." Even though she's not a "techie" Neilson said she did adjust to taking zoom art classes using watercolors and acrylics. "I was glad I did, it was better than nothing," she said.  But being able to go back to the centre this fall has lifted her spirits. "Abbotsford is something we truly appreciate," said Neilson. "It helps us stay in the community rather than finding other ways of living."
Abbotsford member, Muriel Scott Smith is another member who recently got back to the centre to join her Mahjong club, an activity she's been part of for the past 10 years. While Scott Smith didn't take part in the zoom classes, she was able to access medical drives through Community Support Services.  She's glad her Mahjong group is now back to meeting in person and is looking forward to the day the coffee and the lunches are back on track.
Pat Goyeche, the coordinator of Community Programming is pleased to see the folks back in the house and hopes that by the new year most of the favourite classes, clubs and social gatherings will be 'in the house' and at capacity.
The November and December programming of on-line and in-person classes and clubs are listed on the Glebe Centre website (www.glebecentre.ca) under 'current program guide'.
Abbotsford is your Seniors Active Living Centre for Adults 55+.  It houses the community programs of The Glebe Centre Inc., a charitable, not-for-profit, organization which includes a 254 bed long term care home.  Find out more about our services by telephoning 613-230-5730 during regular business hours or by checking out all of The Glebe Centre facilities and community programs on our website www.glebecentre.ca