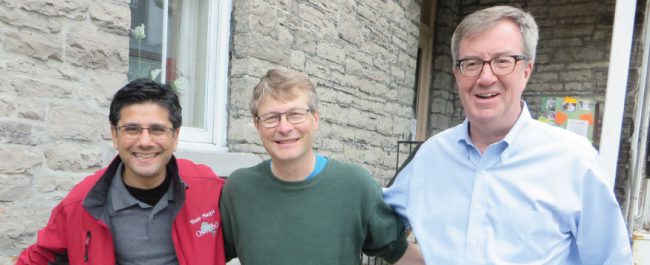 Doors Open Ottawa was just the excuse that was needed to bring out the vintage vehicles, period costumes, Abbotsford's archival material and a ribbon cutting ceremony for a special commemorative bench!
The special ribbon cutting ceremony was for a brand new hand forged 3 seat metal bench which was sponsored by a special Provincial Seniors Community Grant.
Minister of Seniors Affairs Dipika Damerla was unable to attend the ribbon cutting ceremony but sent her good wishes in the form of a letter that was read by Karen Anne Blakely (Director of Community Programs at Abbotsford).
One of the Minister's kind sentiments regarding seniors was expressed with these words, "We want Ontario seniors to remain healthy and independent for as long as possible and to feel safe and supported." This encapsulates what Abbotsford is all about.
Attorney General Yasir Naqvi, Mayor Jim Watson and City Councillor David Chernushenko were all in attendance for the ribbon cutting and expressed their support of this stylish bench as a tangible symbol of supporting seniors in the community.
We thank those seniors who brought forward their ideas on how such a bench could symbolize both The Glebe Centre's Community Programs and Services at Abbotsford and celebrate Canada's 150th birthday.
Randy Gill of 180 Forge Works, Artisan Blacksmithing, was hired to take the conceptual design ideas of a group of Abbotsford seniors and forge a lasting, artistic commemorative bench. This goal was reached with aplomb.
As the sun shone higher and warmer our guests were treated to vintage vehicles outside and historical artifacts inside. Volunteers worked diligently to display and explore the history of the house, welcoming no fewer than 136 guests in this, Abbotsford's 145th year and Canada's 150th!
Abbotsford is your community support centre for Adults 55+. We are the community programs of The Glebe Centre Inc., a charitable, not-for-profit, organization which includes a 254 bed long term care home. Find out more about our services by dropping by 950 Bank Street (the old stone house) Mon – Fri 9-4 pm, telephoning 613-230-5730 or by checking out all of The Glebe Centre facilities and community programs.
By: Pat Goyeche